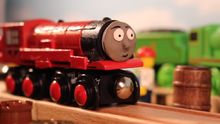 William is a steam-diesel hybrid engine who works on Sodor.
William was the brainchild of Rudolph Diesel, a compromise between the sensibilities of both himself and Sir Nigel Gresley. Upon learning he was cut from the project, Diesel discarded the plans and instead focused upon seeking vengeance for being left out.
Many years later, Phil discovers the plans amongst Sir Topham Hatt's things, at which point he summons Diesel back to Sodor to inquire about it. With some persuasion, Phil convinces Rudolph Diesel to help him construct the engine. They are close to completing the engine when Stephen frames Phil of building a weapon instead of an engine, which halts work on the engine. After Phil clears his name and sets things right, he and Diesel put the finishing touches on the engine. Upon its unveiling, Rudolph christens the engine "William." Three days after William's completion, Rudolph Diesel passes away peacefully in prison.
Appearances
Edit
Voice Actor
Edit
William is based upon an experimental 2-6-2T locomotive built by Kitson-Still Company in 1934. The engine worked on trial for the LNER before being deemed ill fit for practical usage and was dissmantled. 
Ad blocker interference detected!
Wikia is a free-to-use site that makes money from advertising. We have a modified experience for viewers using ad blockers

Wikia is not accessible if you've made further modifications. Remove the custom ad blocker rule(s) and the page will load as expected.