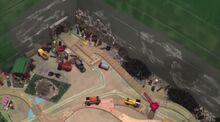 The Transfer Yards is a transfer point for goods between the Northwestern Railway and the Skarloey Railway.
A flaming coal truck shot through the tunnel from the Northwestern Railway in 1945, crashing into the coal supply at the transfer yards and setting it ablaze. Flynn arrives to put out the fire only to realize he has no water. A fast thinking Rusty utilizes an approaching Peter Sam, allowing the blaze to be put out using his water supply.
Following mutliple instances of conflict between himself and Mr. Percival, Sir Topham Hatt decides to cease trading with Skarloey Railway, effectively cutting off one of the railway's greatest sources of traffic.