The Recycling Plant
was a location on the North Western Railway. It was built and owned by
Sir Topham Hatt
.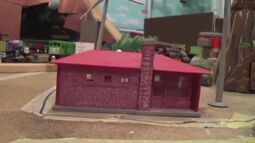 Sir Topham Hatt built the recycling plant, as well as two tall wind turbines, as a way for sudrians to save money and help the environment, but simillar to the purchase of Patriot, Hatt had the plant built to stand as a symbol to Mr. M, showing that he would not cower in fear of the latter. Hatt was impressed with his own work and marveled the plant. The wind turbines fell down and the plant exploded moments later. The destruction of the plant caused Sir Topham to rush over to the transfer yards and argue with Mr. Percival once more.
Ad blocker interference detected!
Wikia is a free-to-use site that makes money from advertising. We have a modified experience for viewers using ad blockers

Wikia is not accessible if you've made further modifications. Remove the custom ad blocker rule(s) and the page will load as expected.