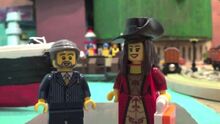 The Duke and Duchess of Boxford are nobility who visited Sodor frequently on summer holidays.
The Duke & Duchess's original private engine was Lady, until she met an untimely end at the claw of Diesel 10. After Lady's death, Spencer became her successor. The two arrived on sodor in July of 1945 for a summer holiday. Their got off to a rough start when Spencer derails, prompting them to buy a diesel from Rudolph Diesel.
Following their purchase, the Duke and Duchess sell Spencer to the North Western Railway.
During the maiden voyage with their new diesel, the engine overheats. Unimpressed with the diesel's performance, they sell the diesel back to Rudolph Diesel.
Appearances
Edit
Ad blocker interference detected!
Wikia is a free-to-use site that makes money from advertising. We have a modified experience for viewers using ad blockers

Wikia is not accessible if you've made further modifications. Remove the custom ad blocker rule(s) and the page will load as expected.