The Ballast Spreader
is a machine that helps spread ballast and repair the line.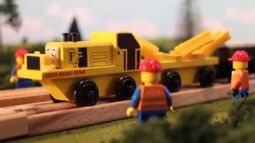 After the end of WWII was declared, for a second time, the Ballast Spreader helped to repair the North Western Railway.
The Ballast Spreader also helped to spread ballast on the rails near the Arlesdale Miniature Railway.
Appearances
Edit
Season 4 : Grand Unraveling (does not speak)
The Ballast Spreader has yet to speak.
Voice Actor
Edit
none
Ad blocker interference detected!
Wikia is a free-to-use site that makes money from advertising. We have a modified experience for viewers using ad blockers

Wikia is not accessible if you've made further modifications. Remove the custom ad blocker rule(s) and the page will load as expected.