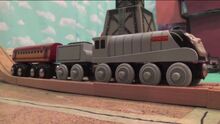 Spencer is the former private engine of the Duke and Duchess of Boxford.
Spencer succeded Lady as the private engine of the Duke and Duchess.
Upon his arrival on the island, Spencer mysteriosuly derailed near the Skarloey Railway, prompting the Duke and Duchess to buy a diesel from the Rudolph Diesel. While being repaired at the Steamworks, he and Thomas expound their suspicions regarding the incident.
A few nights later, Spencer visits Tidmouth Sheds, hoping for comfort from the other engines. Despite their dislike for him, they let him stay and join their discussion.
Following a run, Spencer asks the Duke and Duchess if the rumors are true that they bought a diesel. They confirm this, telling him he has been sold to Sir Topham Hatt. He is comforted by Toby, who expresses his own fears of modernization.
After the Duke and Duchess' new diesel fails on its maiden run, Spencer is returned to their service. However, not long after the transaction Spencer blows up near the Skarloey Railway, a victim of Mr. M.
Spencer is the first victim of Mr. M.
Appearances
Edit
Ad blocker interference detected!
Wikia is a free-to-use site that makes money from advertising. We have a modified experience for viewers using ad blockers

Wikia is not accessible if you've made further modifications. Remove the custom ad blocker rule(s) and the page will load as expected.