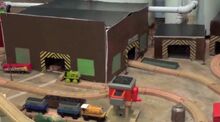 Sodor Steamworks is the location where steam engines on the Northwestern Railway go for repairs. Victor and Kevin work here.
Thomas and Spencer came here to be repaired following Spencer's derailment. During their repairs, they dicussed the suspicous nature of Spencer's accident.
Ad blocker interference detected!
Wikia is a free-to-use site that makes money from advertising. We have a modified experience for viewers using ad blockers

Wikia is not accessible if you've made further modifications. Remove the custom ad blocker rule(s) and the page will load as expected.