The Skarloey Railway
is a narrow gauge railw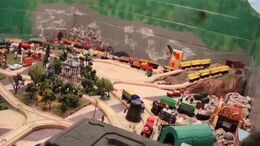 ay situated on the eastern side of Sodor. It was formerly controlled by
Mr. Percival
and his assistant
Leo
.
The line was built on top of the former Mid Sodor Railway.
The railway's primary source of income is derived from the Transfer Yards, a trading point between the Skarloey and North Western Railway. Following some incidents which left Mr. Percival and Sir Topham Hatt at odds, Sir Topham Hatt chose to close the Transfer Yards in retaliation against Percival. With no other source of income, Mr. Percival looks towards reopening the old mine which has been formerly abandoned.
Mr. Percival (Controller; formerly)
Leo (Mr. Percival's Assistant; formerly)
Fritz McCloud (Transfer Yards Workman; formerly)
Various other workmen
Locations
Edit
King Godred's Castle
The Cow Pasture
The Skarloey Railway Sheds
Ad blocker interference detected!
Wikia is a free-to-use site that makes money from advertising. We have a modified experience for viewers using ad blockers

Wikia is not accessible if you've made further modifications. Remove the custom ad blocker rule(s) and the page will load as expected.