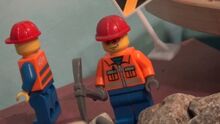 Simon Johnson was the founder and leader of the Blockade Committee.
Biography
Edit
As a boy, Simon had little to no friends and was taught by vicar Charles Laxey. He also was in a relationship with a woman named Lisa and the two got married sometime later. When Lisa was pregnant with Stephen, she broke up with Simon and elopes with Charles Hatt. On April 29th, 1936, Simon killed Charles by tying him to the railway tracks where he is run over by Diesel.
Season 1
Edit
Simon and a group of disgruntled workers start the Blockade Committee after Sir Topham Hatt cut all trades with Mr. Percival. After the group is formed, Simon takes charge, proclaiming that the group should go on strike to accomplish their agenda. He manages to unite the group, proclaiming that they should go on strike.
Season 2
Edit
Season 3
Edit
Simon only appears in newspapers.
Simon has made cameo appearances in EE93's series episodes Samson, BoCo, and the Man in the Hills and Culdee Fell.
Appearances
Edit
Season 1: Sodor Day (cameo), The Quarry (cameo), Hatt's Day (does not speak), Revolutionary, The Blockade Committee, Change, Keeping Status Quo, Turns for the Worse, Differences, The Final Solution (does not speak), Conflict Resumes, Early Days (flashback), The Disheveled German Man, Poor Choices, Hatt
Season 2: Consequences, Reform, Day of the Diesels, Discipline, Terror, Internal Affairs, Maron Station, Authority
Season 3: Inheritance Part 7 (flashback)
​Voice Actor
Edit
Ad blocker interference detected!
Wikia is a free-to-use site that makes money from advertising. We have a modified experience for viewers using ad blockers

Wikia is not accessible if you've made further modifications. Remove the custom ad blocker rule(s) and the page will load as expected.