Shane Dooiney
is the number 5 of the Culdee Fell railway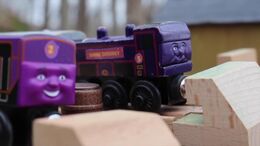 . Not much is known about him.
Shane Dooiney is the number five of the Culdee fell Railway. He witnessed Alfred Herman (Adolf Hitler) attach a giant missile to the front of Culdee's train much to the displeasure of Culdee. Not much is known about Shane Dooniey, he along with the other mountain engines have made various cameo's throughout the series.
Shane Dooniey is the first mountain engine other than Culdee to appear in the series
He along with the other mountain engine's models are actual borrowed from the user EnterprisingEngines93
Appearances
Edit
Season 2 : Authority (cameo)
Ad blocker interference detected!
Wikia is a free-to-use site that makes money from advertising. We have a modified experience for viewers using ad blockers

Wikia is not accessible if you've made further modifications. Remove the custom ad blocker rule(s) and the page will load as expected.