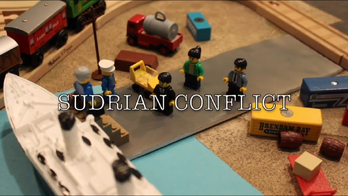 Initially,
Turtlesandthomas
stated that
Season 3
was the final season of
Sudrian Conflict
. However, when asked about the fate of
Sudrian Conflict
in his Q&A video, Turtles revealed that a Season 4 was indeed in the works, slated to be released in mid to late 2016. A trailer released in early May teased the release date of May 11, 2016.
Episodes
Edit
Season 4A
Season 4B
Not Like Him
Sheep's Clothing
Bull of the Woods
Fortunate Son
Writing for this season began in November of 2015, and Turtles has stated that this season will be split into two halves, owing to its lengthy nature.
Season 4 will be the last season of Sudrian Conflict.
Episode Thumbnails
Edit
Behind the Scenes
Edit
Ad blocker interference detected!
Wikia is a free-to-use site that makes money from advertising. We have a modified experience for viewers using ad blockers

Wikia is not accessible if you've made further modifications. Remove the custom ad blocker rule(s) and the page will load as expected.