Robert Equilibrium Stewart
is a former general in the United States Army and the brother of
Michelle Stewart
. He is also
Phill
's best friend and brother-in-law.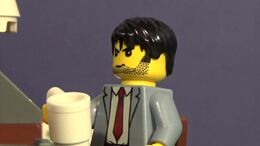 At some point before 1945, Robert Stewart grew up in Maine with his sister, Michelle. He later joined the United States military, and eventually worked his way up the ranks and became general. In the military, he met and befriended Lewis Packard.
On June 27th, 1945, Robert arrived on Sodor with a team of soldiers, as well as Phil Aardman. Robert and his team managed to eliminate Adolf Hitler as well as his bodygaurds. Then, Robert arrested Rudolph Diesel for destruction of property and alleged attempt at murder. After the chaos ended, Robert sent a repair crew to Sodor and they worked to repair all the damage done by the Blockade Committee, Mr. M, and Hitler. Robert also discovered Duke hidden in a shed at the back of the scrapyards.
Appearances
Edit
Voice Actor
Edit
Robert has a bad habit of losing his military badge.
Robert's third favorite animal is the bear.
Robert's middle name is Equilibrium.
Ad blocker interference detected!
Wikia is a free-to-use site that makes money from advertising. We have a modified experience for viewers using ad blockers

Wikia is not accessible if you've made further modifications. Remove the custom ad blocker rule(s) and the page will load as expected.