Patriot
was a green LMS engine.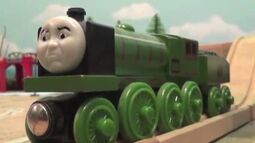 Patriot was purchased by Sir Topham Hatt as a hint that he would not take anymore of Mr. M's terror. The following day, the latter killed Patriot in an explosion near McColl Farm.
​Appearances
Edit
Season 1 : Poor Choices and Help
Patriot along with Thumper are the only two characters to not speak before their last appearance.
Ad blocker interference detected!
Wikia is a free-to-use site that makes money from advertising. We have a modified experience for viewers using ad blockers

Wikia is not accessible if you've made further modifications. Remove the custom ad blocker rule(s) and the page will load as expected.