Oliver the Excavator
is an excavator owned by
Lewis
and
Jenny Packard
.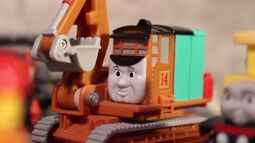 Oliver used to work in the quarry, with Mavis. And was unfortunate to witness Bill fall into the bay during his horrific accident.
Sometime later after Alfred Herman took control of Sodor, he and Nelson had to do the majority of the work in the quarry due to the lack of workmen to the Blockade Committee, unfortunately for both him and Nelson, he could only watch as the black transporter fell off the cliff and to his death below, and listen to Ben and Scruff's arguement about the tank engine being cursed.
Oliver soon returned to help the rest of the pack build the Mid Sodor Quarry for the Arlesdale Miniture Railway and for the engines Mike, Bert, Rex, and Frank to use to transfer ballast for the North Western Railway as Sam C. Ruffey had cut off trade with Phil Aardman after S.C.Ruffey perished. Oliver later praised Jack for saving Marion.
Appearances
Edit
Season 1 : Sodor Day (cameo), and The Quarry (cameo)

Season 4  : Irons in the Fire, and Ryan the Quarry Engine
Voice Actor
Edit
Ad blocker interference detected!
Wikia is a free-to-use site that makes money from advertising. We have a modified experience for viewers using ad blockers

Wikia is not accessible if you've made further modifications. Remove the custom ad blocker rule(s) and the page will load as expected.