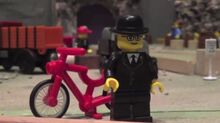 Mr. Peter Percival is the former controller of the Skarloey Railway.
Background
Edit
Before serving as the controller of the Skarloey Railway, Mr. Percival was the assistant to Sir Topham Hatt.
Season 1
Edit
When a flaming truck shoots through the tunnel onto the North Westerrn Railway, Sir Topham Hatt instantly suspects Percival. When he goes to confront him, Percival has no knowledge of doing this, despite Hatt's accusations. When a similar incident happens on his railway a few days later, Percival begrudgingly assesses the damage Hatt has created.
Following this incident, he and Leo venture to the North Western Railway to cause some retaliation of their own. But before they can act, they witness Bill fall from the Quarry cliffs into the bay below.
Appearances
Edit
Voice Actors
Edit
Ad blocker interference detected!
Wikia is a free-to-use site that makes money from advertising. We have a modified experience for viewers using ad blockers

Wikia is not accessible if you've made further modifications. Remove the custom ad blocker rule(s) and the page will load as expected.