Lorry 2
is a lorry.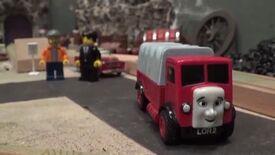 Lorry 2 and his brothers Lorries 1 and 3 all work on the Island of Sodor, delivering goods along the roads to the valleys and villages of the North Western Railway. Lorry 2 is often com working at the Transfer Yards of the Skarloey Railway until it was shut down due to Sir Topham Hatt cutting off trade with Mr. Percival, and was assigned work elsewhere. When the Transfer Yards were reopened when Phil Aardman took charge of Sodor, Lorry 2 was sent back to work there and works there to this day, even thought he doesn't say much.
Lorry 2 is yet to have a speaking role.
Voice Actor
Edit
none
Ad blocker interference detected!
Wikia is a free-to-use site that makes money from advertising. We have a modified experience for viewers using ad blockers

Wikia is not accessible if you've made further modifications. Remove the custom ad blocker rule(s) and the page will load as expected.