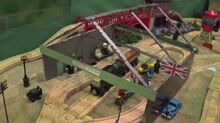 Knapford Station is Sodor's largest station. It serves as the hub for passenger service. The Fat Controller's office is also located here.
Rudolph Diesel met with Sir Topham Hatt here, attempting to convince him to buy more diesels.
Toby finds a dejected Spencer here, and he comforts him and reminds him that modernization seems unstoppable.
Ad blocker interference detected!
Wikia is a free-to-use site that makes money from advertising. We have a modified experience for viewers using ad blockers

Wikia is not accessible if you've made further modifications. Remove the custom ad blocker rule(s) and the page will load as expected.