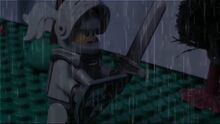 King Maron is a medieval king who ruled the west side of Sodor.
King Maron has always been at odds with King Godred, the ruler of the east side of sodor. The two duel one fateful day, Godred gained the upper hand and defeated Maron. After his defeat, Godred proceded to destroy any remants of Maron's kingdom. The only things left to signify Maron's Kingdom in 1945 was Maron Park and Maron Station. In the park, a statue of him his placed there in his honor. On Sodor Day, a car raced into the park and pulled the statue into a cow pasture. Sir Topham Hatt concluded that this action was meant as a political statement, hailing back to the time of two kingdoms.
Voice Actor
Edit
Ad blocker interference detected!
Wikia is a free-to-use site that makes money from advertising. We have a modified experience for viewers using ad blockers

Wikia is not accessible if you've made further modifications. Remove the custom ad blocker rule(s) and the page will load as expected.