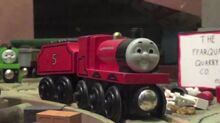 James is the number 5 of the North Western Railway. He is a mixed goods engine and had a prejudice towards diesels, but has now overcome said trait.
When Spencer reveals to the other engines that he will be replaced by a diesel, James expresses his displeasure, ranting about how much he hated "oilers". Even after Edward tries to comfort him, James grudge remains.
He watches Thomas and Diesel make up in the Yards, quite disgusted by the goings on.
He also witnesses Spencer being replaced, this time with Percy nearby. When Percy asks why James hates diesels so much, James tells Percy the story of Lady and Diesel 10, citing this as the reason behind his hatred for diesels.
James is tasked with delivering Derek's parts to the Dieselworks, much to his disgust. He accidentally loses the car of parts when he backs up suddenly, sending the truck into the Skarloey Railway tunnel.
(More to be added)
Five models of James were used in the series, the regular version of James, the old style James for flashback episodes, Busy Bee James for the angry James face, and the James goes Buzz Buzz model used for Conflict in the Shed.
Appearances
Edit
Ad blocker interference detected!
Wikia is a free-to-use site that makes money from advertising. We have a modified experience for viewers using ad blockers

Wikia is not accessible if you've made further modifications. Remove the custom ad blocker rule(s) and the page will load as expected.