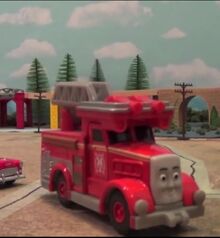 Flynn is a fire engine. He has the ability to run both on the road and on rails. Whenever a fire occurs, he is dispatched.
Flynn and the rest of the fire brigade quickly put out the burning coal truck that came out of the tunnel from the Skarloey Railway. When he was called again to put out the coal fire at the Skarloey Railway, he attempted to use the tunnel, but found out from Sir Topham Hatt that it was blocked by a wrecked truck. Therefore, Flynn was required to take the long way around. Despite extinguishing the fire, most of the Skarloey Railway's coal supply was decimated.
Appearances
Edit
Ad blocker interference detected!
Wikia is a free-to-use site that makes money from advertising. We have a modified experience for viewers using ad blockers

Wikia is not accessible if you've made further modifications. Remove the custom ad blocker rule(s) and the page will load as expected.