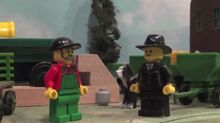 Rev. Charles Laxey was the vicar on Sodor Island. He owns an orchard in a partnership with Farmer McColl.
Simon Johnson was a student of Laxey when the former was young.
Following Sir Topham Hatt's decleration of a cease trade with Mr. Percival, Rev. Laxey met with him to dicuss the matter. Laxey, who traded with Percival, is displeased with Hatt for cutting off his primary source of income. Hatt confirms this, warning him that further action will reap consequences.
Appearances
Edit
Ad blocker interference detected!
Wikia is a free-to-use site that makes money from advertising. We have a modified experience for viewers using ad blockers

Wikia is not accessible if you've made further modifications. Remove the custom ad blocker rule(s) and the page will load as expected.