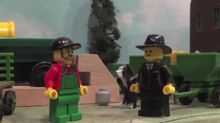 Rev. Charles Laxey was the vicar on Sodor Island. He owns an orchard in a partnership with Farmer McColl.
Simon Johnson was a student of Laxey when the former was young. Though they were close friends, Laxey is implied to have sexually harassed Simon, which was the reason behind Simon's grudge against Laxey.
Following Sir Topham Hatt's decleration of a cease trade with Mr. Percival, Rev. Laxey met with him to dicuss the matter. Laxey, who traded with Percival, is displeased with Hatt for cutting off his primary source of income. Hatt confirms this, warning him that further action will reap consequences.
Laxey was brutally shot and killed by Simon in the episode, Internal Affairs.
Appearances
Edit