Charles Hatt
was going to be the next controller of the North Western Railway after Sir Topham Hatt, but was killed before he could achieve said goal.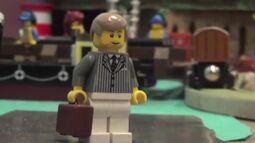 At some point before 1936, Charles entered a relationship with Lisa, Simon Johnson's wife, and the two began living together on the mainland.
On April 12th, 1936, Charles came to Sodor to visit his father, who had a present for him, but Charles never got to see it. He received a letter from Simon, telling Charles to meet him at the viaduct. When they met, the two argued for a moment, but then Simon tied Charles to the tracks, who was ran over and killed by Diesel.
Appearances
Edit