Bertram is dark brown engine who was trapped in a mine.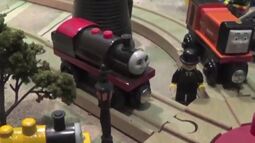 Bertram arrived on the Skarloey Railway when Mr. Percival decided Duncan and Rusty needed help at the mines. Bertram was named after Sir Topham Hatt, which greatly angered the latter. Bertram began work at the mine and was working there when Mr. Percival's coal supply was bombed. The next time he worked there, another bombing occured, trapping him in the mine.
Bertram was later attached to a machine by the Order of Cas-ny-Hawin when they began using the mine as their base. Bertram was later freed from the mine.
Appearances
Edit
Season 1 : The Disheveled German Man , Poor Choices (cameo), and Hatt (doesn't speak)
Season 2: Reform (mentioned), The Oiler Committee (mentioned)
Season 3: Inheritance