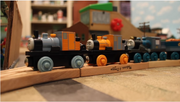 Bash, Dash, and Ferdinand
are three engines who live at Packard and Sons Logging Co. 
The trio was brought to Sodor on one occasion in celebration of Sodor Day to compensate for Mallard's delay in arrival.
Bash, Dash, and Ferdinand's enthusiasm and personalities collectively make them come off as irritating, which causes great amounts of displeasure for their colleagues. 
Appearances
Edit
Ad blocker interference detected!
Wikia is a free-to-use site that makes money from advertising. We have a modified experience for viewers using ad blockers

Wikia is not accessible if you've made further modifications. Remove the custom ad blocker rule(s) and the page will load as expected.