Alfred Herman
, formerly known as
Adolf Hitler
, was the leader of Nazi Germany. He set himself in a boat and drifted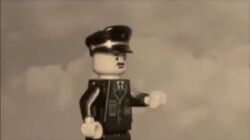 off to sea to avoid capture, ending up on Sodor.
Adolf Herman, after taking over Germany with his Nazi party and starting WWII, was presumed dead on May 1st, 1945. This however was not the case. Adolf, now taking the name Alfred Herman to conceal his identity, escaped his bunker, drifted out to sea, and washed up on Sodor at the docks on May 25th, met Sir Topham Hatt, and passed out. Hatt sent him to a hospital shortly after this, as he had been at sea so long that he had grown a beard and was likely ill. Herman returned two days later, now a very different looking man, and convinced Hatt to let him be his assistant, saying he was good with political jobs. Alfred Herman sent a large majority of Sir Topham Hatt's workers to fight out the Blockade Committee, which failed. He later killed Sir Topham Hatt amongst the chaos and took control of the North Western Railway.
Appearances
Edit
Season 1: Sodor Day (flashback, does not speak), Betrayal (flashback, does not speak), The Disheveled German Man, Help, and Hatt
Season 2: Consequences, Reform, Day of the Diesels, Discipline, The UK Trip, and Authority
Season 4: Not Like Him (flashback, does not speak)
Ad blocker interference detected!
Wikia is a free-to-use site that makes money from advertising. We have a modified experience for viewers using ad blockers

Wikia is not accessible if you've made further modifications. Remove the custom ad blocker rule(s) and the page will load as expected.